Experience
Tenant Representation Experience
Action International
Adleman Lavine
Aflac
Alan Frank & Assoc.
Allan Collautt & Associates
Amtrak
Asplundh
Baker Feldman & Klenk
BF Re Underwriters, LLC
Canadian Consulate
Carbon Nanoprobes
Carl Marks & Co., Inc.
Cigna
Colonial Life
Conrail
Cornerstone
Crawford Advisors
Curtis Institute of Music
Cypress Communications
Ed Zawrotny, Esq
HQ Global Workplaces
Integrity Staffing Solutions, Inc.

J&K Professional Services
John Hancock Insurance
Kraft Foods
Legal Internet Solutions, Inc.
LF Driscoll Co.
Manulife Financial
MAPI USA
Medical Simulation Corp.
Move Forward Inc.
Pennoni Associates
Pepper Hamilton, LLP.
Peter Klenk, Esq.
Philadelphia Financial Group
Prosanos Corp.
Provident Mutual Life Insurance
QuiqMeds
Ranger Aerospace
Record Copy Services
Ride the Ducks International
Ritter and Plants Assoc.
Sandler Training
Saul Ewing, LLP

Scullin Group
Selene Finance
Senior Law Center
Service Group Ins. (SGI)
Smithkline
Sunoco, Inc.
Steiman & Assoc.
TNS Intersearch
Towers Perrin
Transfield Services North America
US Legal Support
Ventana Clinical Research Corp.
Vistage/TEC
Wagenfeld Levine
Waste Management
West Capital Management
WTAS
Xtra Lease, Inc.

Landlord Representation Experience
Before working exclusively with tenants, Greg had been actively involved in many large leasing assignments either in a managerial capacity or as the responsible leasing agent accountable for the marketing and leasing of the building. This experience gave him valuable insight into how landlords structure deals. Greg now uses this expertise to the benefit of the clients he represents.
Some of the major buildings that Greg represented in center city Philadelphia, the Pennsylvania suburbs and southern New Jersey are listed below: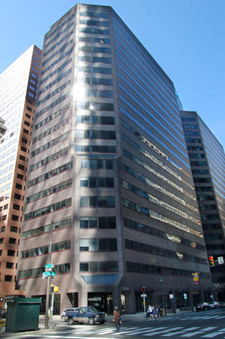 | | |
| --- | --- |
| East Gate Business Center | 115,000 SF |
| 500/501 Office Center Drive | 200,000 SF |
| Glenhardie – 1 Corporate Center | 62,000 SF |
| 2000 Market Street | 630,000 SF |
| 2005 Market Street (Commerce Square) | 950,000 SF |
| 1760 Market Street | 123,000 SF |
| 1515 Market Street | 500,000 SF |
| 1700 Market Street | 750,000 SF |
| 1650 Market Street (One Liberty Place) | 1,200,000 SF |
| 1601 Market Street | 610,000 SF |
| 1101 Market Street (Aramark Tower) | 600,000 SF |
| 8 Penn Center | 235,000 SF |
| 4 Penn Center | 500,000 SF |
| 1800 -1880 JFK Boulevard | 500,000 SF |
| 1811 Chestnut Street | 80,000 SF |
| Greater Philadelphia World Trade Center | 2,300,000 SF |