Profile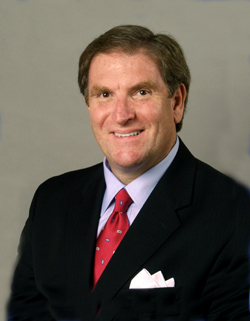 Prior to the formation of West Corporate Partners, Greg spent seven years with Colliers L&A as an Executive Vice President responsible for the management and operations of the Office Division and also served as the Colliers Manager for the firm.
Prior to joining Colliers, Greg spent 22 years at the Jackson-Cross Company as Executive Vice President and General Manager of the Brokerage Division overseeing all brokerage operations including the office, industrial, investment and retail disciplines. He was a major shareholder in Jackson-Cross. In 1998, Jackson-Cross Company was sold to Insignia/ESG, Inc., and Greg continues for the next three years in a similar capacity managing all brokerage operations.
Before his experience at Jackson-Cross, Greg spent five years in the Real Estate Department of Reliance Insurance Company where he was responsible for site selection, lease negotiations and strategic planning of corporate relocations of their various field offices throughout the United States and Canada.
Greg is a Faculty member at Temple University's Real Estate Institute and Instructor for BOMA (Building Owners and Managers Association), for SIOR (Society of Industrial & Office Realtors) and for TriState Realtors Commercial Alliance. Greg also makes regular appearances as a guest speaker for many organizations and industry groups wanting information on commercial real estate activity and forecasting of future trends, as well as dedicates a portion of his time to the training of other practitioners and owners of real estate companies.
Affiliations/Designations
Member, SIOR (Society of Industrial & Office Realtors)
Past President, SIOR Philadelphia Chapter
Past District Vice President, SIOR National
Member, CCIM Institute (Certified Commercial & Investment Managers)
Member, TriState Realtors Commercial Alliance
Chairman, Professional Standards Committee – Tri-State
Member, Advisory Board – TriState Realtors Commercial Alliance
Member, Rotary Club of Philadelphia
Member, Union League of Philadelphia
Member, Pyramid Club
- Chairman – Membership Committee
Trustee, Police Athletic League (PAL), Philadelphia, PA
- Chairman – Facilities Committee
Trustee, Pierce College, Philadelphia, PA
- Former Chairman of the Board
Former Trustee, Germantown Academy, Ft. Washington, PA
Faculty Member – Temple University
Instructor – SIOR, BOMA, TriState Realtors Commercial Alliance, GSA
Former U.S. Army Captain
PA, NJ and Delaware License for Real Estate Practice
Education
La Salle University, Philadelphia PA
Bachelor of Arts, 1972
ROTC Graduate